ReFrame is designed for groups
The course comes alive powerfully when people share their experiences, learn from one another, and challenge each another in the context of a community. These groups might be a small group at church, fellow coworkers, friends, or just a collection of people who share the desire to go deeper in their faith.
Obtain the Material
ReFrame is available for no cost on Vimeo and YouTube. Click on Episodes or WATCH at the top of the page to access the videos. DVDs, DVD Packages and printed guides for Leaders and Participants are available for purchase through the Regent College Bookstore. Digital versions of the guidebooks are available for free download below.
Getting Started
ReFrame is designed so that anyone comfortable leading a group discussion can run the course. The videos and accompanying participant and leader guides contain everything necessary to lead and follow along.
The role of a leader in creating a great experience:
Adjust the format of the course for your audience and context (only if desired)
Familiarize yourself with the videos and guidebooks beforehand
Set participant expectations
Create a hospitable environment where people can have honest, challenging conversation.
Watch the First Episode Download Leader Guide Download Participant Guide
Customize / Modify
Standard Format
ReFrame is ready to go. Simply play the videos, follow the standard two-hour format below (page 4 in the guides) and follow the discussion for each session.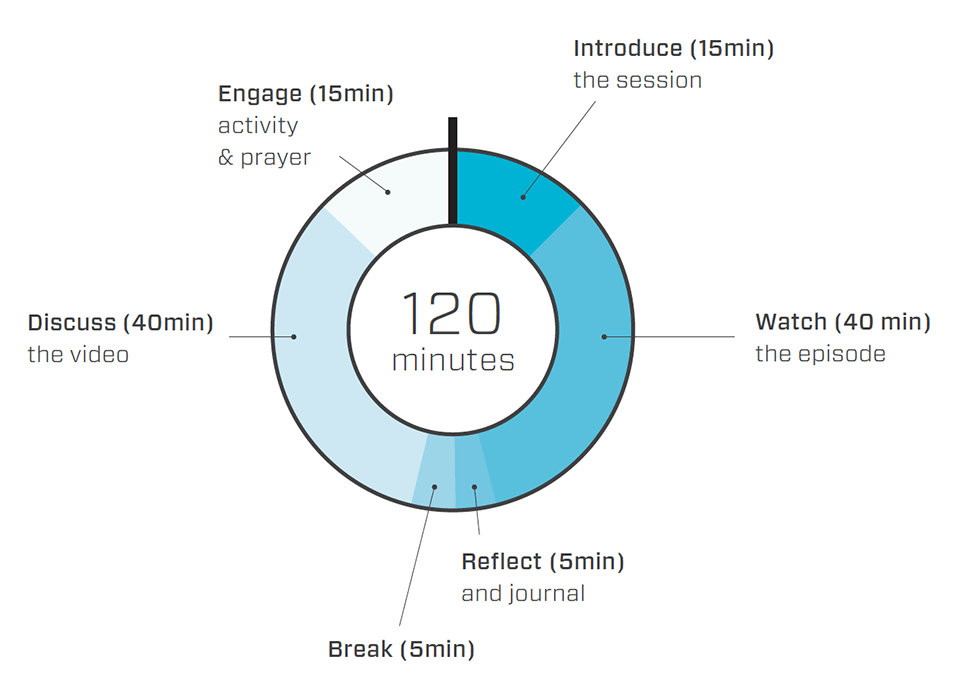 Modified Format
There are a number of creative ways that people have adapted ReFrame for their context. Every group is different and the standard time (two hours) and group size (6-12 participants) are recommendations. You can adjust both of these as you see fit.
Adjust the Setting
Here are some examples that have worked well.
Watch and discuss the videos in a home over a meal
Watch in a large group and then break up into table groups for discussion
Short on time? Watch the videos on your own and then get together to discuss them.
Adjust the Time

Struggling to fit 10 weeks of ReFrame into a church calendar year? Here are some creative ways churches have used the material:
Once a month (Sept - June)
Once a week for 7 weeks plus a Saturday retreat with 3 sessions
Two weekend retreats plus homework
Intensive/ Camp-retreat style over 3 days
Adjust the Content
Write your own discussion questions tailored to your group. Or use our downloadable 1 page versions of the guides.
For student groups: frame the course to connect with the lives of students, the subjects they are studying, and the occupations they hope to enter.
Videos too long? Watch them in two-parts over 20 weeks, or just watch the lecture portion of the videos.
Prepare to Lead
Pray: Pray for your group and your time together.

Prepare: Get ready for each session by watching the video beforehand and preparing for the activity as necessary. Notes to help you prepare are provided at the beginning of each session.
Modify: Every group is different. The standard time (two hours) and group size (6-12 participants) are recommendations. Adjust both of these as you see fit.
Focus: Try to keep the session and discussion tightly focused. Use the recap and intro to focus the group but don't get stuck here; try to get to the video within the time suggested.
Conversation: As a leader, facilitating conversation is a big part of your role. You do not have to have all the answers; rather, your task is to help people engage and wrestle with their questions. Life is complex and so is living out God's story, so try to avoid easy answers.
Questions: Having honest discussions about difficult questions is an important part of learning in ReFrame. With that in mind, don't feel pressured to cover all the questions listed for each session. Equally, feel free to follow people's curiosity and the questions that naturally emerge.
Listen: Every good conversation involves listening. Guide the discussion and help participants listen well to one another. Remind the participants that they are all encouraged to contribute each week.
Hospitality: ReFrame tries to follow the natural rhythms of a group: time to gather, connect, discuss, reflect, and take breaks. The typical two-hour model does not include space for a meal, although feel free to provide refreshments. If you wish to share a meal together, set aside additional time.
Prepare Your Group for the Challenge
ReFrame is going to challenge your group to take their faith into their ordinary lives in fresh ways. It will challenge:
their minds as they encounter the Bible as a story that makes sense of all of life
their hearts as they encounter Christ
their actions as they begin to imagine what it means to be an ambassador for Christ in the places he has called them.
Here are six ways that you can prepare them for and help them through the challenge:
Create a map - Make an ongoing visual map of where you've been and where you are going, keep track of the questions that arise
Give Access - Provide links to the videos for those who miss a session (and for those keeners who want to watch the material again during the week!)
Some people find Episodes 3 and 4 a bit dry, prepare people for this, remind them that there are multiple speakers throughout the course with different teaching styles.
Remind your people to take in what they can—People do not have to understand everything to have a rich experience of the course.
Encourage people to stick with it—It's going to stretch some people but they may be surprised they have a hunger for more than they thought. Encourage your people to stick with it, to show up, and take one thing out of the course each week.
Encourage Community—ReFrame gets at questions of meaning that often lead to rich, honest, and deep conversation. Embrace this—it is an important part of the experience.
Spread the Word
Promotional Materials
Full Trailer
Short Trailer
A series of promotional items are available here to help you share ReFrame with your local church or organization. Some of these materials can be customized to include relevant details for group locations and meeting times. Feel free to print and distribute these materials within your area.
Contact Us
Have you adapted ReFrame and created resources to fit your context? We would love it if you would share them with us! If you have questions that are not answered through the Lead tab or the FAQs then contact us at reframe@regent-college.edu
If your question is regarding physical products (DVDs, Guidebooks) please contact Regent Bookstore at bookstore@regent-college.edu
Survey
Would you like to evaluate ReFrame's impact on your group? We have developed a before and after survey that will help you do this, and help us as we consider how better to equip Christians wanting to connect their faith to all of life. Email us at reframe@regent-college.edu.