Speakers
ReFrame offers a unique blend of intellectual rigour and practical theology by engaging a wide variety of teachers and practitioners. Each episode features world-class lectures by Regent College professors, real-world examples from practitioners, and insight from prominent Evangelical thought leaders.
Hugo Ciro
Co-founder and CEO, Level Ground Trading
Practitioner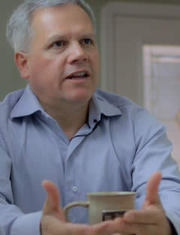 Hugo Ciro grew up in Colombia where he often visited his grandparents' coffee farm in the mountains of Antioquia, Colombia. After graduating with a degree in Economics and Business, he worked for several finance and high-tech companies. In 1992, Hugo attended Regent College in Vancouver searching for ways to apply his faith to his work. He ventured out in 1997 to establish Level Ground Trading. Level Ground's first product, Café San Miguel from Colombia is a coffee from the same region where he played as a child. Hugo spends his time between his home in Victoria BC and visiting farmers in South America and East Africa.