Speakers
ReFrame offers a unique blend of intellectual rigour and practical theology by engaging a wide variety of teachers and practitioners. Each episode features world-class lectures by Regent College professors, real-world examples from practitioners, and insight from prominent Evangelical thought leaders.
Scot McKnight
Julis R. Mantey Professor of New Testament, Northern Seminary
Interview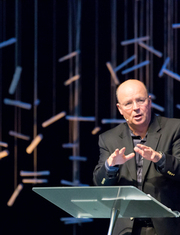 Scot McKnight is a recognized authority on early Christianity, the New Testament, and the historical Jesus. An author of more than thirty books and a Professor of New Testament at Northern Seminary in Lombard, IL, Dr. McKnight has given interviews on several television and radio programs and regularly speaks at local churches, conferences, colleges, and seminaries in the USA and abroad.